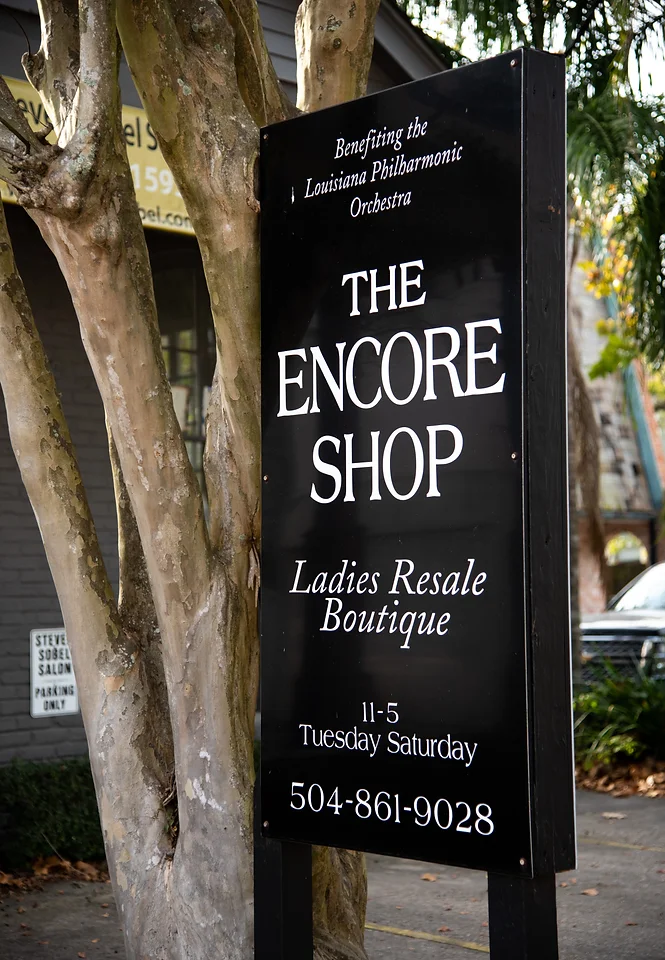 From rain boots for Jazz Fest to gowns for Mardi Gras balls, there is something for every occasion at the Encore Shop.
At The Encore Shop, we provide our loyal shoppers with a broad assortment of ever-changing upscale and designer clothing and accessories. Our helpful sales associates are happy to assist you in finding the right item at the right price to fit your budget and shopping needs. Come check out firsthand why The Encore Shop is the number one choice to buy and sell pre-owned items. Contact us today
Louisiana Philharmonic Orchestra, is incredibly grateful for the unfailing support of the shop. The Encore Shop is owned and operated by the LPO Volunteers, an all volunteer not-for-profit corporation dedicated to supporting the Louisiana Philharmonic Orchestra. Earnings from the Encore Shop donate around $75,000 annually to the Orchestra.
Our History
1966 Encore Project Starts
On August 25, 1966 the Women's Committee of the New Orleans Philharmonic Symphony Society opened the Encore Shop as a project for raising funds to support the the symphony.
Mrs. Louis Claverie was chairman of the women's committee and on the board of the The New Orleans Symphony, and it was she who presented the idea, novel at the time, of a resale shop for gently worn women's clothing and debutant gowns.
The members of the board could not understand how such a concept would work but she was persistent. D. Blair Favrot was chairman of the board at the time and was quoted as saying "We had no idea what a consignment shop was or how it would work, but we knew that with a little dynamo like Viola Claverie behind it, it would work…….and it has.
What a tribute to Mrs. Claverie and the forward looking women that opened the shop because fifty years later the shop still remains in business and the money raised is given to what is now the Louisiana Philharmonic Orchestra. The shop run by the LPO Volunteers was contributes around $75,000 annually to the orchestra.
---
Fall into Fashion after Katrina
Following the devastation brought by Katrina, another forward thinking woman realized that many women had lost all their clothing during the flooding and that they would be looking for affordable clothing to replace what they had lost.
Darleen Carlisle, who had been volunteering at the Encore Shop which had not been damaged, realized that there was a large inventory of women's clothing and accessories which could provide an answer to a need.
She chaired the first Fall into Fashion. The event has proved to be so successful that it has continued to be held each October.